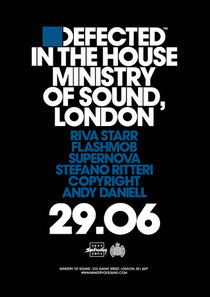 Defected In The House returns to Ministry of Sound in London on Saturday June 29 with a distinctly Italian-flavoured line-up. 'Defected Forza Italia' aims to capture the spirit of house music right now with Italian producers and DJs making a bigger contribution than most to the scene. From new tracks to high-profile residencies at some of the world's greatest clubs, a new generation of Italian artists have established good reputations and Defected's release schedule has lately been home to some of the best tracks to emerge globally from Italy.
Originating from Napoli, Riva Starr is a talent who has almost single-handedly forged an entirely new sub-genre of house music with his quirky, dancefloor-aimed productions. Previously described by iD Magazine as "the most exiting name in house music", Riva Starr has driven on from those early career accolades, launching his label Snatch! and regularly performing at Panorama Bar, Space, Womb and Fabric as well as some of the biggest festivals in the world.
Fellow Italians Alessandro Magni and Danny Michella (from Milan and Cassino respectively) are establishing themselves as one of the most acclaimed production duos in house music today as Flashmob. Riding a tidal wave of success generated by the  response to their singles 'Brick House', 'Need In Me' and – more recently – 'Pieces' (featuring vocalist Laila Walker) along with their current remix of FCL's high-flying 'It's You', Flashmob have carved their place in house with their sublimely crafted, unpretentious house music. 
Then, again hailing from the hotbed of house that is Napoli, Emiliano Nencioni and Giacomo Godi are Supernova, a DJ and production duo that have over the last decade made the transition from rising stars to established international talent. Known for  remix work such as their chart-topping 'Strings Of Life' re-work from early 2012, they feature consistently at the upper end of the Beatport charts with recent releases including EPs on Defected Records, The Light Goes On and The World is Crazy, while in a club setting they are known for their distinctive DJ style where their current set-up comprising live instruments, decks and Ableton.
Completing the line-up in The Box is Hoxton-based Stefano Ritteri, originally from Rome, an artist whose prodigious rise has been marked by an array of original productions and remixes for the likes of Underworld, Depeche Mode and Wiley. His 2012 track 'Home Is Where It Hurts' has clocked up over 500,000 views on YouTube whilst his more recent 'The Rules Of Control' further prove his pedigree. 
Copyright and Andy Daniell will bring an all-London flavour to proceedings in 103. Copyright continue to host the Defected In The House Radio Show, while on the production front their new collaboration with Donae'O 'My Desire' is doing great. They are supported by Defected A&R, Andy Daniell, who with some 10 years at the label under his belt, should know what makes a great set on a big Defected In The House occasion. 
© justaweemusicblog.com