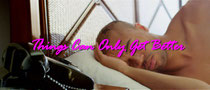 Cedric Gervais has teamed up with Howard Jones to create a brand new dance floor version of Howard's track 'Things Can Only Get Better'. Set for release in North America this spring/summer on Robbins, Cedric and Howard have gone all in creating a video that celebrates the '80s and one dude living in Miami during the days of Crockett & Tubbs. 
Living amidst the Rubik's Cube, Critters on VHS, Delorean's and boom boxes this down on his luck guy steps foot into a garage that transport's him into the future… where things only get better.
Cedric Gervais' first big break came in the form of 'Spirit Of My Life' in 2006; Pete Tong made it an Essential New Tune on his BBC Radio 1 show. Cedric followed with a string of high profile remixes for the likes of Dubfire and more 'Essential New Tunes' followed – namely in the form of 2009's 'Mauri's Dream' and 2012's 'Molly' which became the soundtrack to 2012 WMC. Cedric's current track – his remix of Lana Del Rey's 'Summertime Sadness' topped the Beatport for over three weeks while remaining in top ten for two months solid. 
Howard Jones first burst upon the contemporary music scene in 1983 and brought his very English song-writing and pioneering synthesizers to an unsuspecting world. His first two albums – 'Human's Lib' and 'Dream Into Action' lived in the higher reaches of the global album charts thanks to hits 'New Song', 'What is Love?', 'Pearl In The Shell', 'Hide And Seek' (which he performed at Live Aid in 1985), 'Like To Get To Know You Well', 'Look Mama', 'Things Can Only Get Better', 'Everlasting Love' and the quintessential 'No One Is To Blame', which reached No.1 in the US. A classically trained pianist, Jones applied his technique to the early synths particularly the Roland Juno 60, the Jupiter 8 and the Moog Prodigy. He also pioneered the classic Roland 808 drum machine and the Sequential Pro-One.