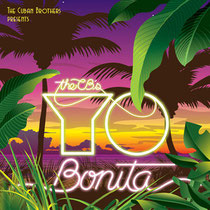 Los Hermanos Cubanos, aka The Cuban Brothers, are all set to release their new album 'Yo Bonita' on May 6 via Jam City Records. The album features the band's hottest tracks; from funk and soul right through to hip-hop and jazz, with special guest appearances from Mica Paris, Kurtis Blow, Tenor Fly, Abdominal, Omar and KT Tunstall.
A raw collection of sinewy funk and heavy beats, unusually for a dance album, 'Yo Bonita' eschews building tracks around samples in favour of a real band dynamic, which lends the collection of original tracks and inspired covers a groove that is infectious. From crate diggers' delight 'Misdemenor' originally by Foster Sylvers, Sly and the Family Stone's 'Underdog' and Motorhead's 'Ace Of Spades' rendered as you've never heard it before to the band's originals, including 'The Finding' and 'Mike 4 President', the lay a contagious bedrock for Mike's vocals.
Miguel Mantovani: "'Yo Bonita!' was the album started just after my first born Bonbon, I wanted to do an organic project not using any samples with the extraordinary live band I'd put together to support James Brown on one of his last tours out in Australia. The players comprise cats from Amy Winehouse's outfit, Primal Scream and so many more and they are the dopest musicians. The main idea was to do some great songs, dope beats and keep it free of gimmicks. With the exception of Kurtis Blow, who is just a legend of hip-hop culture and somebody I've always admired, the guests are some of my favourite British artists, all with their own true voice."


The band will be heading out on tour to support the new album, including a headline show at The Garage in London, and a slot at this year's Bestival.