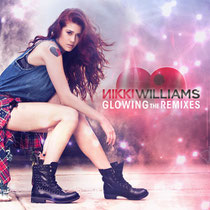 Nikki Williams' first single 'Glowing' showcased many sides of the up and coming artist. Now, remixes by Fedde Le Grand and Swedish duo Cazzette are available, as Nikki gets set for closing Fedde Le Grand's set on the main stage at Ultra Music Festival this Friday, March 15.
Her as-yet-untitled album is slated for release this spring on Island Records. Williams is currently on the road, sampling her music: "I'm still working stuff out," she confesses. "But if you want to find me, I'll be in the diviest bar of whichever city I'm in."
The 24 year old South African previously released the track 'Kill, F*ck, Marry', a haunting single by Sia and produced by Stargate, Popdust noted, "Nikki's voice, which is one part Kelly Clarkson, one part Hayley Williams. She's got the power to belt with the heavyweights, but there's a rock edge to her voice that sets her apart from the Idol crowd. Pink is a close analogue, but while the 'Raise Your Glass' singer often wants you to feel every inch of effort in her vocals, Williams is more apt to soar with the melodies than strain under them."
Have a listen to the Soundcloud below.