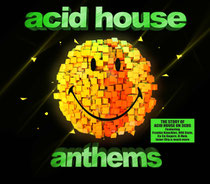 Out 4th February on Sony Music, 'Acid House Anthems' is a 3CD compilation released to mark the 25th anniversary of acid house - the UK's most influential youth culture phenomenon since punk. The album features 50 of the most loved tunes and biggest artists from the 'second summer of love' including tracks and mixes from Orbital, 808 State, Coldcut, Primal Scream, Happy Mondays, St Etienne, Frankie Knuckles, Inner City, Paul Oakenfold, Andy Weatherall, A Guy Called Gerald, Phuture, Rhythm Is Rhythm and many more.
A collision between man, technology and chemistry, acid house and the 'second summer of love' has left an indelible mark upon music, society, fashion, art and beyond. Though Britain provided the right environment, acid house took its musical cues fromAmerica's, and particularly Chicago's, emerging house music scenes with tracks such as DJ Pierre aka Phuture's 'Acid Trax' release, the seminal recording that welded the squelching (misused) bass sound of the Roland 303 synthesizer to a house beat. The track, and others like it, blew up in Chicago at the legendary Music Box house club before making waves with DJ Alfredo at Amnesia in Ibiza as well as finding fame in the record stores and house clubs of London and Manchester.
What happened next has been written into music folklore; following trips to Ibiza in 1987, a loose collective of newly enlightened British youths decided to transport the Ibiza-style acid house soundtrack and 'ecstatic' vibe back to the UK, launching parties and clubs including Shoom, Future, Spectrum, RiP Clink Street, and The Trip in London, and 'Hot' & 'Nude' at The Hacienda in Manchester, as well as the 'orbital' raves such as Apocalypse Now, Sunrise, and Energy. 'Acid House Anthems' captures the essence of this era.