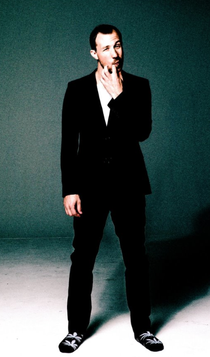 Following the success of 'Hide' featuring Miss Kittin, Kris Menace releases the second single taken from his album, 'Features'. 'Lone Runner' a collaboration between Kris and  Swedish dance music pioneer, Unai, who together deliver a slice of electronica drizzled with deep melancholy. The remix package includes mixes from Denmark's #1 DJ Kolsch, Barcelona's Undo, Serbian duo Acos CoolKAs and French filtered house don, Axel Le Baron.
On the track's composition, Unai says: "I started working on 'Lone Runner' many years ago, originally it was intended to end up on my own album. I wrote the lyrics, then started on the production. I worked on the many different versions; but never felt the music was as good as the lyrics, so the sketch ended up in a drawer.
"When Kris sent me some early demos for his album I remembered the lyrics for 'Lone Runner' and recorded them for one of the Kris demos. However, what he sent back to me in return was something completely different - and perfect! His production of 'Lone Runner' was everything the song had been yearning for all these years. In some way I think this suits the lyrics of 'Lone Runner': it's nice to run alone, but it's nicer to run together!"
Check the new video out below.