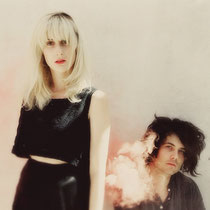 Brooklyn-based label Mexican Summer has announced that San Fransiscan Kiwi's shoegaze duo Tamaryn will be returning to the UK in early 2013 for a string of live dates to support their newly released sophomore album 'Tender New Signs'. Following some stirring and positive reviews for second album 'Tender New Signs', Tamaryn have just announced a major European tour for early 2013, and will be stopping off in the UK for four of those dates.
Speaking about their new album in Elle (of all places) last month, Tamaryn said: "There's more optimism in this record than the last record, but there's still a lot of sadness, too. The name is kind of representing the moment of hope within sadness. Even though there are meditative songs on the record, there are more pop rock [ones]. There are songs you could visualize happening as a live band, like 'The Garden' and 'While You're Sleeping I'm Dreaming.' In my mind, those are... people-on-ecstasy songs."
'Tender New Signs' is available now via indie Brooklyn-based label Mexican Summer.
Dates:
Thu 31 Jan 2013        London – 93 Feet East 
Fri 01 Feb 2013          Brighton - Paganini Ballroom 
Sat 02 Feb 2013         Bristol - Start The Bus  
Sun 03 Feb 2013        Leeds - Brudenell Social Club 
Mon 04 Feb 2013       Netherlands- Amsterdam - Bitterzoet
Tue 05 Feb 2013        Netherlands- Utrecht - Spiegelbar
Wed 06 Feb 2013       Germany - Munich -  Orangehouse
Thu 07 Feb 2013        Germany - Berlin - Comet 
Fri 08 Feb 2013          Denmark - Copenhagen - Stengade
Sat 09 Feb 2013         Sweden - Stockholm - Debaser Slussen
Sun 10 Feb 2013        Sweden - Gothenburg - Roda Sten
Wed 13 Feb 2013       Germany -Hamburg - Uebel &Gefahrlich (Turmzimmer)
Thu 14 Feb 2013        Switzerland - Lausanne Le Romandie
Fri 15 Feb 2013          Italy - Bologna - Covo
Sat 16 Feb 2013         Italy - Rome - Circolo degli Artisti 
Sun 17 Feb 2013        Italy - Milan - Ligera Club
Tue 19 Feb 2013        France - Paris - Silencio