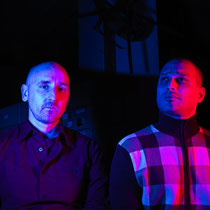 Neil Higgins and Richard Sen return as Padded Cell with a brand new single, 'Guardians Of The Night' released this week through Different Recordings. It's been a few years since previous Padded Cell single releases, which have been championed by a wide range of DJs such as Harvey, James Murphy, Erol Alkan and David Mancuso.
In the interim period they have produced remixes for LCD Soundsystem and Bryan Ferry, performed live laptop sets in dark corners of the world from Rio de Janeiro to Istanbul, and seen their music infiltrate mainstream entertainment such as Grand Theft Auto and HBO comedy Eastbound And Down. 
In 2012 Richard Sen put together a compilation of early UK house and acid from `87-91 called `This Aint Chicago', which was released to great acclaim through Strut. New single `Guardians Of The Night` employs vocalist Free Disco alongside a live sax, bass, guitar and percussion skilfully arranged by the hands of Padded Cell. The video above has been put together by the guys own fair hands and is a collage of suitably dark and eerie animation created by Nuno Da Costa for Padded Cell's live outings mixed with other esoteric found imagery.