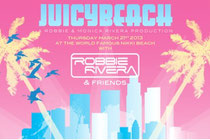 Robbie Rivera  - creator of "Juicy Beach" party in Miami is seeking out a hot new dance music talent through an online competition. The Grand Prize winner will receive the opportunity to play along side Robbie and other international DJ talent at Juicy Beach on March 21, 2012 plus the chance to show off those production skills with their very own release on Juicy Music. Robbie isn't looking for some last minute opening DJ, but rather a new talent to showcase prominently at the Juicy Beach event and on all promotional materials. 
To enter, aspiring producers and DJs are invited to submit an original remix of Robbie's track, 'Makes Me Feel Good' along with their best 15-minute mix which incorporates their remix to www.talenthouse.com/perform-juicy-beach. Stems for "Makes Me Feel Good" are available here.
Submissions are open until February 10, 2013 with a one-week voting period taking place between February 11 and February 18. Robbie Rivera will personally choose the Grand Prize Winner while the fans will choose the runner up. Winners will be announced on February 26, 2013.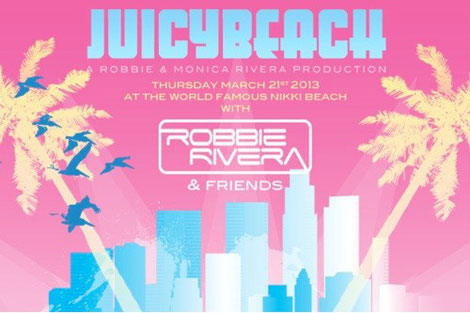 There's a lot in the works for 2013 for Robbie Rivera, including the first ever Juicy World Tour. After successfully bringing Juicy Beach to New York City's Governors Island (the first North American Juicy Beach show outside of Miami), Robbie's decided to bring Juicy themed parties directly to fans across North America. For more info, click HERE: