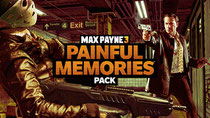 Inspired by the grisly shootouts from Max's past, the Painful Memories Pack will bring four new maps and more to Max Payne 3 Multiplayer this December. Players can revisit the subway bloodbath from the original Max Payne in the Roscoe Street Subway map. Flashback to the dingy Hoboken watering hole at Marty's Bar, open fire on the posh Branco family yacht in Shoot First and wage Gang Wars at Canal De Panamá.
The Painful Memories Pack also includes the IMG 5.56 and UAR-21 assault rifles, new avatars, items and the Hangover Burst, which causes enemies to respawn with blurred vision, reduced stamina and health. The pack will be available on December 4th for 800 Microsoft Points on Xbox LIVE and £7.29 on PlayStation Network and PC (Rockstar Pass owners will receive this content at no additional charge). 
The new shootout at the Roscoe Street Subway station artwork is available as desktops and avatars at rockstargames.com/downloads, along with a pair of original illustrations from the Hostage Negotiation Pack featuring the Filhos De Ogum wielding the IA2 Assault Rifle and other weaponry as they attempt to dominate the Estádio Do Galatians and O Palácio Strip Club multiplayer maps.