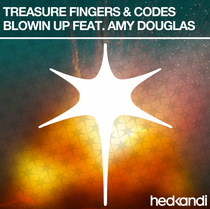 Hed Kandi recently released 'Blowin Up', the brand new single from Treasure Fingers as he collaborates with Codes. 'Blowin Up' is full of uplifting party-ready breaks, gritty synth melodies and a deep intricate bassline! 
Treasure Fingers, the DJ/producer born Ashley Jones, has already captured the ears of many, from Innerpartysystem, Monarchy, Theophilus London and Miike Snow to Eric Prydz, Romanthony and Roy Davis JR (all of whom requested the Treasure Fingers remix treatment). 
His new twist on disco attracted the attention of labels as Defected, MOS, Nervous, Hed Kandi and Fools Gold to name a few. Codes, is a NY based beat maker who is reaching back to those golden days of hip-hop and house music. His sound is a little cut n paste, a little production wizardry, and a lot of love. On vocal duty, it's Amy Douglas, a musical and visual chameleon, whether cranking out dance music as SPF 5000S lead vocalist and songwriter, funking it up with members of Funkadelic (George Clinton and Co.) or rocking out with her juggernaut rock band Feints. On the remix duty, Boston based J Paul Getto get busy with the filter to transform the track into a modern day slice of disco house. The UKs Brighton based Carl Hanaghan and My Digital Enemy together deliver a version that should put a smile on the faces of any true house music connoisseur and finally on the nu disco tip, Amsterdam's Webqueawry produce an incredibly deep and funky remix. It's out now.