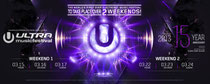 Ultra Music Festival has now confirmed it will hold the 15thedition of its event over two three-day weekends March 15, 16 & 17 and March 22, 23 and 24, 2013. This marks the first time ever for a major electronic dance music (EDM) festival to do so anywhere. Having teased the world with a countdown clock on its YouTube channel just days ago, Ultra Music Festival today revealed the news right at the end of an exclusive video on UMF TV, entitled "Relive The Ultra 2012 Experience."   

The video, created and directed by Final Kid's Charly Friedrichs – director of the Ultra Music Festival film Can U Feel It – 'Relive Ultra Miami' showcases 14 minutes of the very finest moments from this year's event and exclusively previews what's in store for March 2013. Shrouded in secrecy for months, the team behind Ultra Music Festival – which last year drew over 165,000 fans – were excited to unveil the news.
Russell Faibisch, Co Founder, Executive Producer, President & CEO of the 15-year event said:
"After an extremely successful 2012 edition of Ultra in Miami, and the continuous overwhelming demand by disappointed fans that were unable to attend because of the early sell out, we've decided to do what Ultra has always consistently done throughout the years, pioneer, and push the EDM movement forward. So we are adding a second weekend of Ultra. This is a unique concept from anything ever done before in our space, as it will be two Weekends... two Unique Experiences. There are A LOT of incredible plans and surprises lined up for everyone attending our 15th Year Anniversary!"
Adam Russakoff, Executive producer, talent buyer and Director of Business Affairs adds:  
"Being the first ever EDM leaning festival to go two weekends just supports our position as being the preeminent forward thinking brand in electronica.  Although we are already known as having the best and most relevant talent at our events, two weekends allows us to present even more and create two separate and distinct highly unique experiences for our attendees, let alone the impact this will have on the economy in terms of jobs and other ancillary industries like hotels and transportation."
Following a recent study commissioned by Ultra Music Festival and carried out by the Washington Economics Group, it revealed the extent to which the festival boosts the city's yearly economy and news of the 'double header' weekend won't solely be music to the ears of electronica fans. In 2012 alone, the three-day event injected upward of $40 million directly into the Miami-Dale economy ($79 million if factoring in indirect and induced spending). With over 60% of visitors hailing from outside Miami-Dade, the local fiscal benefits that this news brings will be unprecedented. Tickets for both weekends go on sale to the general public on Wednesday, October 17, exclusively from: www.ultramusicfestival.com.