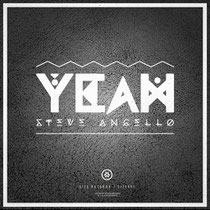 Label boss Steve Angello makes his solo return to Size Records with the recent release of 'Yeah'. Having been a firm favourite with fans, both in its earlier incarnations and in its re-invigorated 2012 update, 'Yeah' has become a huge track for Angello. Steve also revealed that 50 cents from each sale of the record will go to his SIZE Foundation. Steve has multiple roles as a producer, remixer, DJ, label boss for Size Records, head of the Size Matters event brand and is one third of Swedish House Mafia. 
Opening on a surge of driving kicks and rolling snares, the track opens up into a blast of dramatic synths. Building its crescendo to fever pitch, it eventually gives way to its full weight as the huge chords, tough drums and chants of "Yeah" march off decisively into the night. It's out now.
The SIZE foundation was launched in August of this year and is a non-profit organization that focuses on education as a means to empower children and young adults worldwide. The foundation's emphasis on education in early stages of life aims to have a long lasting and positive effect on communities and societies in the future. For more information on the foundation please visit www.sizefoundation.com.