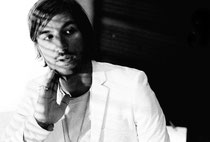 John Martin wrote and performed the current Swedish House Mafia single, 'Don't You Worry Child', which was debuted live by Swedish House Mafia at their farewell show to the UK at Milton Keynes Bowl on July 14. It has since achieved almost six million plays on YouTube. He also wrote the huge Swedish House Mafia track, 'Save The World'. 
John said: "As anyone with a passing interest in big songs will tell you, 'Save The World' would, alongside 'One', would become the signature record for Swedish House Mafia. To me, it's always going to be an amazing record! It came together quickly and it was the reason for me to quit my daytime job – when it became a hit, I got the opportunity to start touring the world. It took me everywhere and together with the Swedes at Madison Square Garden, we did Ibiza and Ali Pali. At Madison Square Gardens, there was an audience of 17,000, I have a lot of great memories of that song."
John Martin is now working on his debut album with co-writer and good friend Michel Zitron. John said of his debut: "It'll be about songs. It definitely has electronic influences but it's a song-based album and it's written by myself and Michel. What we do is we create the same landscape with a computer and an acoustic guitar."
John's debut album will be released in 2013.