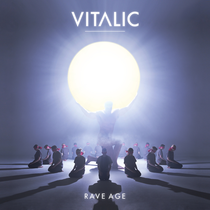 Techno DJ/producer, Vitalic, will release his album, 'Rave Age' on November 5 through Different Recordings. The album will be preceded by a single, 'Stamina', on October 1. As part of the release, Vitalic will up the ante with a brand new VTLZR live show coming to a venue near you later this year.
Mixed by Stephane Alf Briat, known for his work with Air and Phoenix, 'Rave Age' showcases not just a passion for big room, electro smashers and electronica, but a broad set of influences that stretch from punk and film soundtracks to disco and indie dance.
Showcasing a myriad of talent roped in to give this album added punch, it features the vocal efforts of Joe Reeves (Shit Disco) on 'Fade Away' and 'Next I'm Ready'. French starlets Owlle and Rebeka Warrior (Sexy Sushi) appear on 'Under Your Sun' and 'La Mort Sur Le Dancefloor'. Mickael Karkousse from Belgium electro party proceedings, Vitalic isgiving away a free download of the aptly titled, 'No More Sleep', a taster off the album.