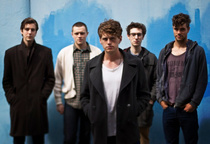 Hotly tipped alt-indie outfit, Vices, will release their brand new EP, 'Hotel Monsoon', this autumn. Spotted by Jeff Saltzman (Producer; The Killers, Hot Fuzz, ex Green Day manager) in a small LA bar, he took the Reading born, London based band to his recording studio in Hollywood and produced their debut album, 'The Wind I Walk Into'. 
"We played all up Sunset Boulevard at the Viper Room and Roxy", recalls Rory Seabrook (drummer). "Then one guy, Jeff came down to a show and wanted to record us immediately."
Off the back of this recording, Vices have toured Europe and North America supporting the likes of Band Of Skulls, Everything Everything and Dry The River. Since returning back to British soil, the five have finished a self-recorded, self produced EP called 'Hotel Monsoon', showcasing a new direction for the band. It's out 24th September, have a listen below.