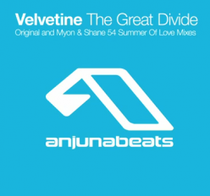 Velvetine – The Great Divide (Anjunabeats)
Final one for the week, we previously mentioned this track earlier in the month and how it's a highly anticipated release for the band and for the Anunabeats label. So, with its release due this Monday, this is a perfect track to sit on the site all weekend. Velvetine is DJ/production duo Myon & Shane 54 and American singer-songwriter Aruna and this track actually debuted on Trance Around The World 400 about 10 months ago, and since then has been a vocal anthem within the trance community. 
Although it's not a full on up-tempo trance record, it's beautiful harmonious style sits between Anjunabeats and Anjunadeep, which should give you some indication of its quality. We've always had a soft spot for melodic, female progressive trance music and this is a stunning example. The vocal is dreamy, the production levels high and as it travels to its sythn and effect-laden, piano breakdown, the emotional journey slowly builds again, before firing off with full four to the floor beats and Aruna's vocal. This is lovely. Check out the video below.