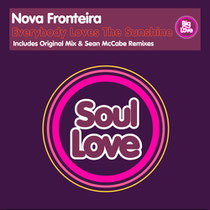 Nova Fronteira - Everybody Loves The Sunshine (Soul Love)
Nice and soulful for a Monday as usual, this blissful slice of house music on Seamus Haji's classic Soul Love label is a cover of the Roy Ayers' classic and should be instantly recognisable to most. It has summer written all over it and once you stick this on repeat those 'beginning of week' blues should quickly fade away.
It comes in four mixes, the original, a reprise for those who like to be a bit more adventurous with their mixing, and a remix and dub from the UK's Sean McCabe. It's the original and Sean's mix that work for us, both soulful house music at its best. If you're unfamiliar with Nova Fronteira, it's the creation of Michele Chiavarini who's best known for his work on many music productions, particularly with Dave Lee aka Joey Negro, Raven Maize etc and also Dave's Sunburst Band. We're liking this a lot, it's great to see Soul Love back again, so check it out below. Out today on Traxsource, general release on 17th September.