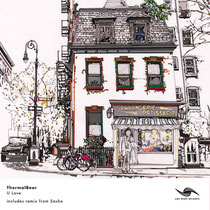 ThermalBear – U Love (Last Night On Earth)
Don't know much about this one accept that it's out on Monday and is another lovely release on Sasha's record label. Sasha maintains the label's philosophy of releasing good music, whether it's from established artists or up and coming producers, which is the latter in this case for Dennis White aka ThermalBear. 
Featuring the vocals of Maiday, the original reminds us of classic Way Out West with its slightly broken beats, atmospheric synths and beautiful vocals over the music. We've had it on repeat all day, it's that good. Sasha's remix has the quality you would expect, taking the track into deeper territory with a subtle 4/4 beat that's reminiscent of the many top mixed compilations he's compiled over the years – it has that distinctive Sasha sound. Both mixes do it for us, both for different times of the day and night. Have a listen to the Soundcloud link below.