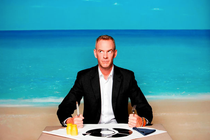 The latest Fatboy Slim Big Beach Boutique party is to be shown at cinemas across the globe on August 31st giving party lovers the chance to experience the biggest and best Big Beach Boutique production yet, on the big screen and in 5.1 surround sound. Fatboy Slim Live:  From The Big Beach Bootique was filmed at the Amex football stadium in Brighton, home to Fatboy Slim's beloved Brighton and Hove Albion FC and a venue that's close to his heart. 
A state of the art production playing to over 40,000 fans across two nights, Fatboy Slim Live: From The Big Beach Bootique features a 600 square metre LED video wall stretching the length of the stadium pitch, spectacular laser and light show effects, thrilling pyrotechnics, eye popping visuals and a soundtrack featuring his latest material and greatest hits.
Responsible for such international anthems as 'Rockafella Skank', 'Praise You' and 'Right Here Right Now', Fatboy Slim is a mutli-platinum artist, and is still one of the most popular DJs in the world.  He's also worked with some of cinema's biggest talents.  Academy Award nominated director Spike Jonze directed 'Praise You' and the seminal video for 'Weapon Of Choice' took full advantage of Academy Award winner Christopher Walken's dance background and won six MTV Music Video Awards in one night.
The movie will play theatrically across the world in countries including USA, Canada, UK, Ireland, Brazil, Argentina, Mexico, Australia, New Zealand, Japan, Hong Kong, France, Italy, Germany, Spain, Netherlands, Poland, Romania, Czech Republic and Russia.