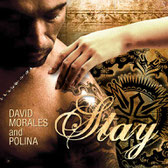 David Morales recently announced the release of his new single 'Stay' (featuring Polina) the third single from his new Ultra Music artist album, 'Changes'. The remix package features brand new interpretations from Bruno Robles & Felipe Kaval, Joe T Vannelli, Rui Da Silva, Mark Alston and David Morales. 
David Morales is a DJ, remixer and producer who has been at the forefront of the dance music scene since the 1980s. From his start as a DJ at NYC's Red Zone and several other New York City clubs including Paradise Garage, David went on to become what many consider to be the world's first superstar DJ – thanks to sets that were filled with his own remixes and tracks people simply couldn't hear anywhere else. David Morales has turned originals from Madonna, Kylie Minogue, Whitney Houston, Michael Jackson, Janet Jackson, U2 and Mariah Carey into Billboard hits and has become a vital part of every DJ and producer's career.
To honour the spirit of house music and to connect the inspiring time of the '80s and '90s with the present, David Morales has compiled a special "Classic House" DJ Mix for Elektro Daily, featuring some of his own remixes, originals and personal favorites. From the boasting intro of 'Everybody', DJ Pierre's 'The Horn Song', David's own remix of U2's 'Lemon', Robin S' 'Show Me Love' and Sade's 'Pearls (Phillip Damien Remix)' this is all classic house.
David proved he has a few more tricks up his sleeve by throwing a record release party at New York City's Cielo on June 14th. The event, which encompassed both an invite-only press event and proper open door party, featured live performances by 'Changes' album collaborators Polina, Tamra Keenan, Janice Robinson and Jonathan Mendelsohn. DJ sets from Quentin Harris, Hector Romero, house music Godfather Frankie Knuckles and guest of honour, David Morales, topped off the evening making it a classic NYC night out. Check out some highlights from the night below.