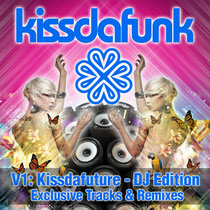 With the recent release of their first digital album 'Kissdafuture' and the subsequent 'DJ Edition' that followed, with so much activity around the brand, we took this opportunity to catch up with one of our old friends, the promoter behind Kissdafunk, Glyn Tolley. Glyn elaborates on the digital releases and reveals his plans for Kissdafunk's future…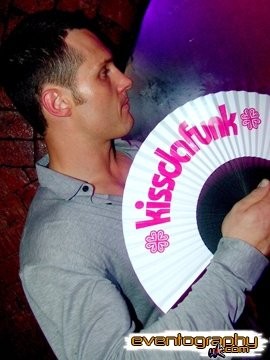 Kissdafunk's very first digital album, 'Kissdafuture', was recently released across all good download stores. Can you give us the lowdown about the album for those that don't know?
Well it's been a little while since we've had an album on the shop shelves, so when we were offered the opportunity to release one, I realised we might have taken our eye off the ball in that department. Without sounding like an art critic from a comedy show... 'Kissdafuture' captures the essence of Kissdafunk's bygone days, blended with the sounds of today (and tomorrow), delivering a product that (hopefully) suits most tastes.
An exclusive 'DJ Edition' bundle is available now from Beatport. What's so exclusive about it?
We've taken the seven exclusive tracks from the album and re-presented them; together with four new tracks. The package is aimed primarily at DJs (funnily enough, ha ha) and features full length, versions. 
Are there any future plans for more Kissdafunk related music releases?
Yes definitely. As a result of the album being so well received, I started speaking with various people about starting a Kissdafunk record label. As well as albums, we'll be releasing singles from some of the DJs who've played for us over the years - it's quite exciting actually.
What's new on the events side of things?
We started a new monthly residency in York and the opening night was really good fun. We're also re-launching monthly nights in Newcastle in August, and Wakefield also. We've recently signed with a new agency, so I'm looking forward to seeing what international gigs they bring in for us.
Clubbing in the UK has seen major shifts in trends and preferred music genre types with the masses - how would you say KDF is positioning itself to cater for these changes?
Hmmm, well we've always tried to cover all bases of house music but musical trends seem to happen a lot faster these days. We've seen many sub genres come and go - some good, some awful - and we've tried to harness elements from all of them; without following one (musical direction) too far. Many nights cater for one or two particular styles but we've always prided ourselves on trying to provide something for everybody.
What's the craziest thing you've ever seen happen in a Kissdafunk event?
Well there have been many but I've just had a chuckle thinking about the lad who thought he was performing for us one night in Leeds. I'd observed him near the DJ stand (with an imaginary microphone), having the time of his life, pretending to rap over the top of the music. I'm sure he didn't know I was, so when I asked him if he was ok, he proceeded to tell me he was Kissdafunk's chief rapper. Brilliant!