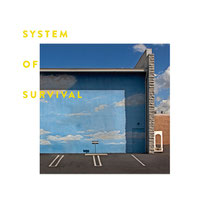 Italian DJ, remixer and producer duo System Of Survival release their debut album, 'Needle And Thread', this September on Ellen Allien's Bpitch Control. The album's 12 tracks are rich and varied, based on almost 20 years of highly successful musical collaboration: Pietro "Bingo" De Lisi's soul and funk background, Alex Carpetieri's roots in Detroit and Chicago techno, their first joint success in the clubs of their home city of Salerno and finally their big break in their current centre of operations – as residents of the legendary Circo Loco / DC10 in Ibiza. 
'Needle And Thread' tells of never-ending Balearic party madness; it reflects the intimate, creative atmosphere of the DC10 crew and presents house as a globally celebrated and universally understood formula. Bingo and Alex are masters of this formula in all its varieties: each of the 12 tracks contain pieces of the complex musical patchwork that defines the pair's artistic background. The mixture reaches maximum intensity in the delightfully weightless synth pop track 'W Pitch Down', the track 'X-Pert' that fans will know from System's EP 'Rough Everytime', and the bassline bomb 'Attitude'. This is where Bingo's penchant for '80s techno classics and blaxploitation films makes itself heard - although once more without resorting to simple citations.
Three tracks feature inspired performances from selected guest vocalists. They invited some old friends into the studio, including Anna Gi (on 'X-Pert') and Pietro Caprioglio, aka Autre. The latter, best known in Italy for his releases on Roundabout Sound, Kosmophono and System Of Survival's own label Ianvs71, lends his captivating voice to the title track. The album's 'star guest' is undoubtedly the Hercules and Love Affair singer Shaun J. Wright. He instills a perfect 90s old-school house vibe into 'Attitude' and stamps his distinctive charm on this album highlight. The most unusual track is surely 'Crash What' – a cool, down-tempo number that starts off with quirkily tweaked Joey Beltram sound snippets, then suddenly transforms into a captivating pop track with crooner vocal samples.
What would be more appropriate than for System of Survival to release this great first album on their own label Ianvs71? Originally this was precisely their plan, but as so often a coincidence changed the course of events: while being driven by a friend from a Circo Loco gig to Ibiza Airport Ellen Allien heard 'Needle And Thread' on the car stereo and was mightily impressed – and the rest, as they say, is history. Out 3rd September.