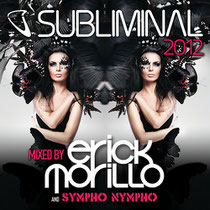 In celebration of his Subliminal Sessions residency at Pacha, Ibiza Erick Morillo presents 'Subliminal 2012' - a compilation of his favourite tracks to keep the summer party vibe going. Erick Morillo and SYMPHO NYMPHO (the team of Erick Morillo, Harry "Choo Choo" Romero and Jose Nunez) guide you through an electronic musical spectrum, from the underground to peak time floor fillers. The album features top tracks from some of dance music's most gifted producers.
Tracks including Radio Slave feat. Danton Eeprom 'Grindhouse (Nic Fanciulli Remix)', Daniel Steinberg 'On The Train (Derrick Carter Remix)', and John Dahlback feat. Terri B 'Flirt (Club Mix)' sit along side Subliminal standouts In The Screen feat. Rachel Starr 'Keep On Dancin (Erick Morillo, Harry "Choo Choo" Romero, Jose Nunez Groove Mix)', Erick Morillo & Eddie Thoneick feat. Skin 'If This Ain't Love (DJ DLG Lazor Mix)' and Craig David feat. Erick Morillo 'Get Drunk Up (SYMPHO NYMPHO Remix)'. 'Subliminal 2012' is also packed with loads of exclusive material including T3KTONE 'Prelude (Original Mix)' and 'Sankadilla', Eddie Amador & Harry "Choo Choo" Romero feat. Countre Black 'We Are The Beautiful Ones (SYMPHO NYMPHO – NYMPHO MIX)' andDenis The Menace & Syke'N'Sugarstarr 'World In Your Hands (Original Mix)', among others.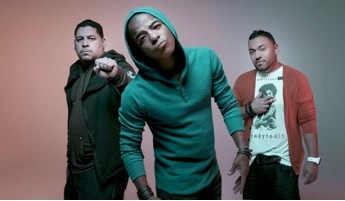 Erick Morillo holds the longest ever residency at Pacha Ibiza, now going into his 12th year. His Subliminal Sessions parties have gone from strength to strength, with the last two seasons possibly being the most highly attended, at the most VIP club on the island. As well as upfront fresh music, there's a proper party crowd in tow, as well as numerous VIPs. Erick needs very little introduction, a household name, a platinum selling artist, a producer who has topped the charts worldwide with the Real 2 Reel hit 'I Like To Move It' and the owner of Subliminal Records. He's produced under pseudonyms including Ministers De La Funk (along with Harry and Jose), RAW, Smooth Touch, RBM, Deep Soul, Club Ultimate, Li'l Mo Ying Yang, has remixed everyone from Whitney Houston to Basement Jaxx, from the Sneaker Pimps to Macy Gray and has collaborated with the likes of Puff Daddy. 
It was while working on The Dronez material with Harry "Choo Choo" Romero and Jose Nunez, producers of percussive, funky tracks 'Cro-Magnon' and 'Erectus' – Subliminal Records - that the concept for Sympho Nympho was born. "We kinda soaked up all musical genres since the late-70s between us," says Jose. "We wanted to explore our diversity in a new dimension for us – popular music. It's a radio friendly sound where we've morphed all our ideas and influences." Harry adds: "With Sympho Nympho, we get to be more playful and express ourselves in a totally different way than before. It's a new boundary for us, that we are having a blast discovering."
For full tracklisting, check out: www.subliminalrecords.com