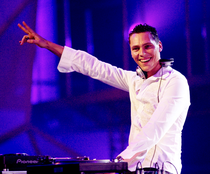 GUESS, the denim-based lifestyle brand, recently announced that the company is embarking on a comprehensive collaboration with DJ and producer Tiësto that will include a limited-edition capsule collection and branded performances around the world. Beginning in August, the Limited Edition Tiësto watch by GUESS, a new multi-functional style, will be available worldwide in GUESS stores around the world and also at department and specialty stores.
"When I first met Tiësto, I was really so impressed," said Paul Marciano, CEO and Creative Director for GUESS?, Inc. "We connected right away on both a personal and professional level. He is more than just a DJ - he is very multi-faceted and truly understands what it takes to build a brand. There is no better choice in music today to represent the free-spirited, adventurous and sexy GUESS lifestyle."
"GUESS has been a pioneer in fashion for 30 years," said Tiësto. "I've been a fan of the brand for a long time. It's really an honor to have been selected to partner with them in such a global way. The opportunity to work with Paul Marciano and his company is truly invaluable as I continue to build my clothing brand, CLVB LIFE."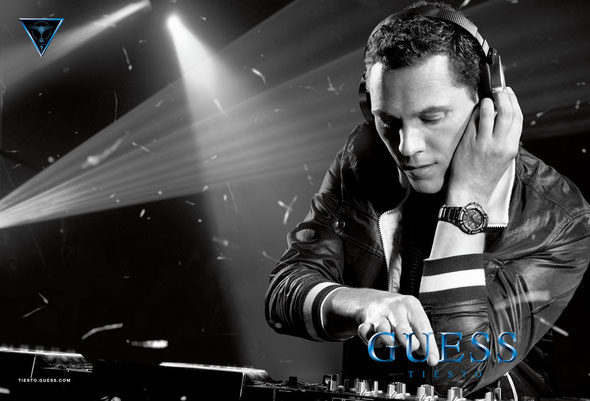 The apparel collection will follow in October for women and men. The 22-piece line is inspired by the growing power of electronic music and the lifestyle surrounding it in today's pop culture. Included in the offering are skinny-fit jeans for men and women in black and indigo treatments with zipper detailing, graphic print T-shirts reminiscent of the digital light shows and video projections during a Tiësto performance, and leather jackets and coated twill jackets that add an edgy sexiness using moto-jacket details. This all comes detailed and trimmed with the custom GUESS/Tiësto logo in black and electric blue. A dedicated microsite - guess.com/tiesto - will include product details, performance schedules, ecommerce and a global sweepstakes. Fans can join the conversation on Twitter using the hashtag #guesstiesto.