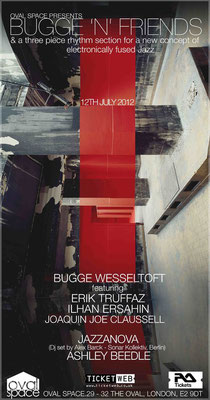 Norwegian pianist and power behind the dance-oriented New Conceptions of Jazz movement in the mid-1990s, Bugge Wesseltoft, brings his seven person jazz group Bugge 'n' Friends to London for a rare UK show at Oval Space with support from both Jazzanova and special guest Ashley Beedle. This is the first in a series of unique events and instillations at the newly launched Oval Space in Bethnal Green, following on from the success of resent shows from Bonobo, Wolf + lamb, Claude VonStroke and NYC's Body & Soul collective. Bugge 'n' Friends consists of long time friends and associates including Blue Note trumpeter Erik Truffaz, US producer Joaquin 'Joe' Claussell, saxophonist Ilhan Ershain and a three piece rhythm section.
Joining Bugge 'n' Friends will be Sonar Kollectiv affiliate Alex Barck from Jazzanova and a special guest Ashley Beedle for two intimate DJ sets before and after the performance.
"I'm so proud of being able to present this fantastic line up of friends and heroes I have been so fortunate to hear and work with over the last ten years! The Bugge´n' Friends project is all about presenting a community of music and international artists, mixing jazz and electronic music together in a deep mutual respect and with a fascination for each other's worlds." Bugge Wesseltoft.
After establishing the concept "The New Conception of Jazz" in 1996, which he mixed his jazz background with the inspirations and admiration for electronic club music, Bugge got in touch with a new and fantastic music scene. "Mid-90s to me is a small version of the late-60s (my favourite period in music), with great openness and the will to experiment throughout genres and musical directions. This period has been leading to the most interesting mixes of electronic music and jazz."
Oval Space will open their doors from 6pm for drinks on the terrace, with performances commencing at 7:30pm, when Bugge Wesseltoft and his musical friends will be tackling the boundaries of jazz and house from both sides of the spectrum.
Full band line-up:
Bugge Wesseltoft : Grand Piano, Rhodes, Synthesizer

Erik Truffaz: Trumpet

Ilhan Ersahin: Saxophone

Joaquin "Joe" Claussell: Beats/Electronic & Organic Percussion

Marius Reksjø: Bass

Erik Holm: Percussion

Andreas Bye: Drums