The 7th SCP Backpack Music Festival in Detroit was recently announced, the annual event that raises thousands of dollars, backpacks and school supplies to benefit Detroit inner city children. This year's festival will be held August 4-5 at New Center Park located in Detroit's vibrant Midtown. The festival is the work of Derrick May (Transmat), Mad Mike of Underground Resistance, SCP founder Judy Shelton, John Collins (UR), Artistic Director and various other supporters. The annual festival is celebrating its seventh year. Nearly $30,000 in money and backpacks filled with school supplies have gone to about 1,500 students since its inception. Organizers hope to meet or exceed the seven year total in 2012. 
"We are very happy to be a part of this amazing tradition of helping kids," said Derrick May. "This effort proves that Detroit's music moves minds and hearts to do good for others."
"So many kids need help with the simple stuff. Having a backpack with just the basics like pens, paper and folders makes a big difference on the first day of school," said festival founder Judy Shelton. "We are honoured to have internationally acclaimed artists such as Derrick May and Mad Mike support our event.  Detroit's talent runs deep. So do their hearts."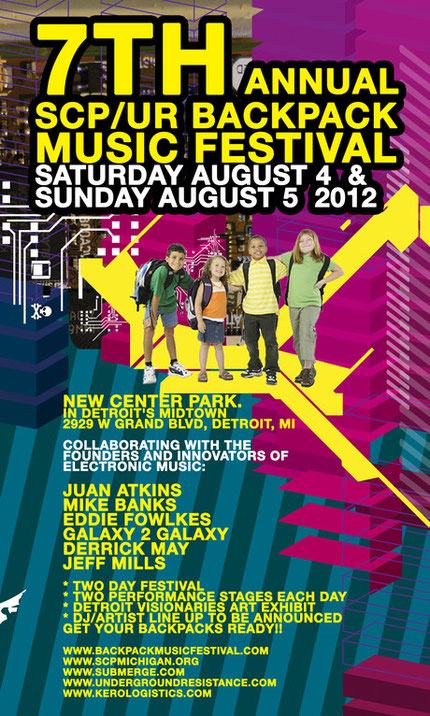 Thousands of people are expected to attend the August weekend event, which draws a diverse group of people from across southeast Michigan. The music festival began as a picnic on Belle Isle Park in Detroit, and has evolved into a large festival and art exhibit that will feature DJ sets by Derrick May, Eddie Fowlkes, Juan Atkins, John Collins (UR), DJ Skurge (UR), Terrence Parker, Rick Wilhite, DJ Minx, Pirahnahead, Wayne Williams and many more.  In addition to live performances by Galaxy 2 Galaxy (UR). Timeline (UR) and international recording artist, Michelle Weeks.
Music is the common thread, connecting art, education and technology. The festival  is expanding its scope to include a highly anticipated art exhibit featuring visions of what Detroit could be in the future as seen through the eyes of some of the techno founders and innovators of Detroit electronic music such as Jeff Mills, Mad Mike (UR) and Abdul Haqq. There will also be artwork from the Center For Creative Studies Student Art Competition. There will also be a release of a limited edition compilation CD of music donated by some of Detroit's most recognized techno and house DJs. The winning art from the CCS Student Art Competition will be featured on the CD cover and booklet insert. For more info, check: www.backpackmusicfestival.com