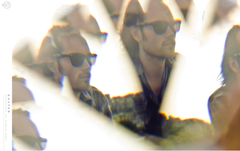 Dusted's debut LP, 'Total Dust', won't be released until July 10th but you can hear it now streaming exclusively on Noisey. After six years of constant 'Holy Fuck' touring, Brian Borcherdt with a slew of new songs. Looking to explore a different sound, Borcherdt teamed with producer Leon Taheny (Final Fantasy, Rituals, Bruce Peninsula) and together the pair recorded in a converted garage under the name Dusted.  
The resulting album, 'Total Dust', resides in an atmosphere that is sometimes melodic, sometimes haunting, and always clouded by a fuzzy glow. With string arrangements and half-hidden guitar feedback held together by the occasional tambourine and minimal drum machine, the stripped down mood compliments a collection of songs that are more than capable of standing on their own merits. As a live act, vocals and guitar are expelled through small overblown amplifiers and bolstered by a raucous backbone of live drums, 808 samples, and bass synth. Since their stage debut this spring, the band has performed with label mates Deerhoof and of Montreal, while back home in Toronto the duo has been playing parties with fellow friends Army Girls, Odonis Odonis, and Little Girls.
'Total Dust' will also be released as a limited-edition run of 500 copies on 180 gram maroon-colored vinyl, while pre-orders of the CD version will include the bonus track, 'Centuries of Sleep'.