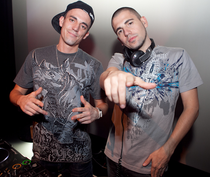 Brothers Dimitri Vegas & Like Mike recently announced their second major tour of the United States and Canada for 2012. Hitting the cities of Santa Ana, San Diego, San Francisco, Toronto, Miami, Las Vegas, Los Angeles, Chicago and New York, the pair are buzzing from their arena-closing set at Electric Daisy Carnival in Vegas last weekend.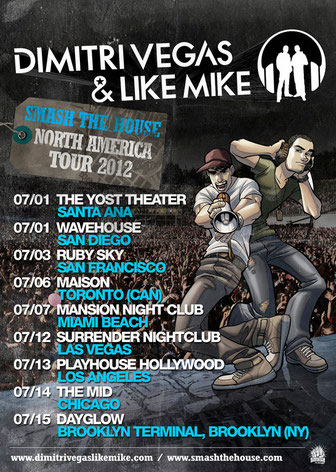 "It was absolutely wild," Dimitri said. "One of the best gigs we've ever played and an insane atmosphere. The scene is just electric over there right now and we're looking to take it even higher this time around."
Known for their huge mash-ups in the mix and Mike's persona on the mic, these two Belgian superstars have swiftly created a niche position for themselves in a majorly crowded market, bringing a live MC element to their shows that hypes already bumping dance floors to electronic extremes.
"We'll be bringing it big time," confirmed Mike. "We're getting bigger and faster with every gig so if you think things were nuts last time round, you ain't seen nothing yet!"
For tickets and latest info, click HERE.