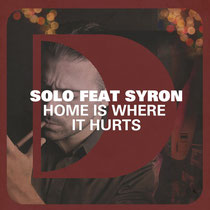 Solo Featuring Syron – Home Is Where It Hurts (Defected)
Out last week on the Defected label, this is a lovely slice of deepness from Italian DJ/producer Solo. Getting its world exclusive on Pete Tong's show in May, the track's popularity continued to rise thereafter with many DJs trying to track it down and blag it from the Defected camp. Featuring the lovely vocals of Syron, she sings 'my home has no door, my home has no roof, my home has no windows, it ain't waterproof' and so it goes on. 
We think she's talking about how she's open and has no secrets, hoping that in her next relationship, she meets the ideal partner who doesn't want to take from her, but give. We could be wrong though! Regardless, it's a deep, meaningful groove that has a great bassline with a repetitive male vocal hook running through it, kind of 'Church Lady' style, but different. It's a powerful track from Solo, and will only add to his popularity, having had releases on a few key labels and remixed for big artists such as Depeche Mode and Underworld. Out now on all main download stores, have a listen below.