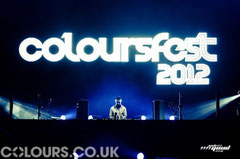 While most people in the UK were off to enjoy the various celebrations for the Queen's Jubilee, Glasgow in Scotland was creating its own mayhem in the form of Coloursfest 2012 – a top event with a stellar line up of DJs, more genres of music that you could shake your glow stick at and plenty of other entertainment to keep you occupied. It's a rarity these days to pay under £40 for over 10 hours of cracking dance music and quite frankly, the electric atmosphere caught us off guard! 
The arenas and tents are well coordinated and security staff friendly. It's busy, but with plenty of room to dance without taking out your neighbour and the visuals are spectacular! Ice canons, ticker tape explosions and trippy screens that would give Vegas a run for its money. The set-up is top class. We catch Edinburgh's local Legend Craig Wilson deliver a rather astounding trance set with a nice sprinkling of classics to set the night off on a good note - a natural behind the decks and a smiley face leaves us wanting a bit more! Trance legend Marcus Schultz gives us a beautiful journey into his mad world as he gleefully jumps around the decks delivering a nice tasty set full of melodic, but driving, trance. He works the crowd into a fun frenzy and he has quite a following of fans, we're definitely ones now! 
Making his first Colourfest debut is the magnificent Paul Oakenfold and well, all we can say is it's well worth the wait. Delivering a Full on Fluoro set with a few reworked classics means this is a sure-fire contender for the best set of the night. Following on from Oakey we get hit with Paul van Dyk, letting loose on the Scottish crowd like there's no tomorrow! He bounces around in a way we have never seen him do before, it must be something in the water! As we snake our way out the main arena for a breather at the oxygen bar, it's absolutely going off at the outside terrace! Not an inch of space is there for us to even squeeze in, and we can only look on from the sidelines. Gutted!
We bounce about catching a bit of each DJ but there's just so much to see we couldn't begin to list it all here. Bumping in to DJ Van Oliver in full LED Space helmet has to be one of the highlights though! This was our first, but most definitely won't be our last, Coloursfest, you certainly get more bang for your buck!
Words: Nicola McDougall
Photographer: Ash Youd (www.ashyoud.com)