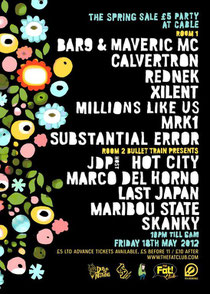 Tonight, Chew the Fat! saddles up to Dub All Or Nothing to offer another showcase of every facet of bass music, building on from the success of the hugely popular showcase the duo crafted in January. In the main room there will be a doubled up assault of drum and bass and dubstep to craft some speaker shredding sonics, headed up by Bar9. With dense levels of warped noise and shuddering bass to create an intense and full frontal barrage of sound, it's music that is not for the fainthearted and evocative of the sheer seismic power music can create.
Joining them will be Calvertron, a man whose sound has quickly caught the ears of a diverse cast of jocks; Busy P, John Digweed, Tiesto, Benny Benassi and Fatboy Slim amongst his fans. Polish wunderkind Xilent is next up, his unmistakeable brand of D&B already seeing him find favour with Zane Lowe after the New Zealand DJ made his 'Beyond' track his 'Hottest record in the World' and praised its ability to marry dubstep and D&B. Rednek return after a scintillating performance back in January, hot on the heels of their new album which sees a release through Champion Records on the 28th May. Millions like Us are also in the building, their 'Equinox' EP released on Bristolian record label D-Style, with the final spotlight falling on Substantial Error, whose single 'Sunshine' opened up Skream & Benga's takeover of the BBC R1 airwaves.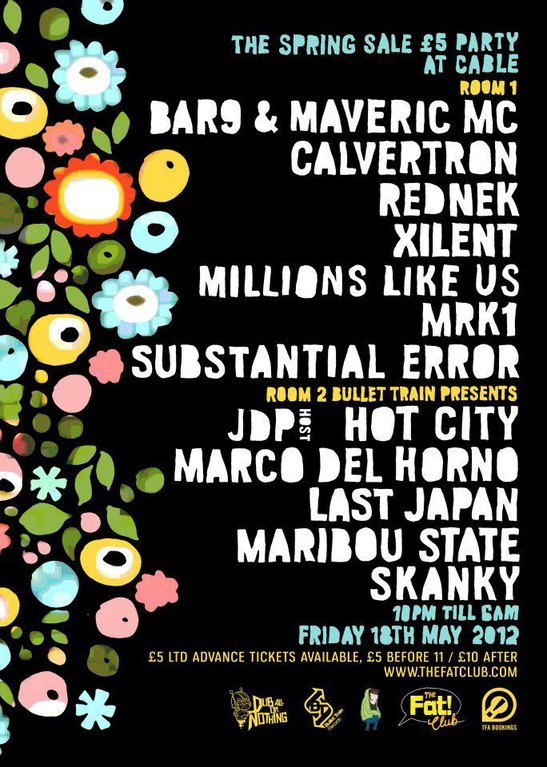 The second room will be hosted by Wandsworth music imprint Bullet Train Records. The brainchild of bass music pioneer Marco Del Horno, Bullet Train's wide and varied output has seen them release a killer slew of singles combining deep house, electro and bass music. Joining Marco in the room will be Moshi Moshi lynchpins Hot City, their latest single causing sever ruminations across the whole spectrum of bass music. The room is rounded off by some of the lynchpins of both labels, with Bullet Train represented by the wide ranging palette of Last Japan, who's collaboration with hotly tipped grime MC Trim 'East' has started garnering heavy plaudits from DJs and tastemakers alike. Maribou State are in the corner for Chew the fat, still fresh from the success of their 'Olivia' EP and video from January, with Woz completing the room.
Dub All Or Nothing and Chew the Fat! presents…
Room 1
Bar9
Calvertron
Xilent
Rednek
Millions Like Us
MRK1
Substantial Error
Room 2 Bullet Train presents…
Hot City
Marco Del Horno
Last Japan
Maribou State
Woz
Cable Street Tunnel, London Bridge, SE1 3JW
10pm – 6am
£5 adv / £5 on the door before 11/£10 after