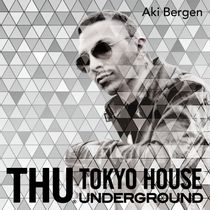 Italian producer Aki Bergen delivers the 'Melancholy' EP for Apt. International this June, debuting on the label with a three track collection comprising of an original and two remixed versions from Japan's Masahiro Suzuki.

 With releases on Great Stuff, Noir Music, Plastic City and Neurotraxx he's earned support on many of his releases since beginning in 1997 from the likes of Ralphi Rosario, Milton Jackson, Miguel Migs and Pezzner.


The original mix of 'Melancholy' features a low slung rolling groove, a glistening haze of background strings and a seemingly ever-evolving delay on the recurrent vocal. Bergen exploits his deep house know-how into the mix with warm, signature Rhodes chords and touches of soul within the various vocal cuts.

 Neurotraxx Deluxe artist Masahiro Suzuki steps in to deliver two reworks of 'Melancholy', a Sunnyday Service Mix that abruptly veers between its uplifting piano chord sequence and the rough and ready techy groove that accompanies it. Followed by a Navy Solitaire interpretation taking things deeper, incorporating various synth and piano stabs alongside a spoken word vocal murmuring away in the background.

 It's out June 27th.