Various - A Long Hot Summer Mixed By Chris Brann From Ananda Project Sampler EP (Nite Grooves)
Nice and funky yesterday, still keeping the beats varied, soulful and funky for Tuesday. We featured this album in our news last week and have been playing it repeatedly since then. The good news is that there's a sampler EP to accompany the compilation, consisting of five of the compilation's tracks, picked out by Ananda Project's Chris Brann.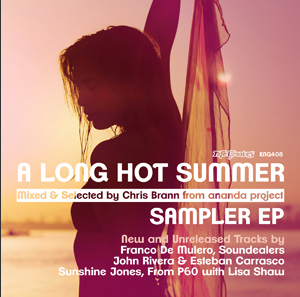 Although only five tracks, it gives a nice indication of what's on the album and these five are all equally good. It kicks off with Franco De Mulero's 'The Darkness String', then continues with Soundealers' soulful Nite Grooves debut with 'Keep On', before John Rivera & Esteban Carrasco's 'Attempt To Dream' takes it on a techier edge. Sunshine Jones' 'Warm Sun On My Face' continues the sampler before the Forteba remix of From P60 With Lisa Shaw's 'Magic' completes the EP. This is a really good sampler, but only gives you a small taster of how good the compilation really is. Out end of the month.