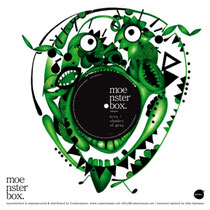 Lexy Vs Shades Of Gray – Dondi Bisco (Moensterbox)
Actually two tracks to choose from here, 'Dondi Bisco' and 'Cariah Marey', two spoonerism track titles that are fairly hard to categorise with their mix of sounds and styles. Nu disco, soul and the deeper sounds of house come to mind but you really need to listen for yourself to make up your own mind. 'Dondi Bisco' is a French sounding, slightly filtered track with washes of sound, synths and snippets of vocal. With so much thrown into the pot, it shouldn't work, but it's actually a really nice slice of music. 
'Cariah Marey' is more downbeat, still on a 4/4 tip, but has a very retro feel to it, repeatedly sampling a Mariah Carey interview, before it breaks down and gives you an untouched vocal, where you can clearly hear what she's saying. Listening to it loud, her voice bounces around on various speakers, messing with your head so you're never really sure where it's coming from. Weird, but another interesting piece of music. Out 7th May. Have a listen to the Soundcloud below.