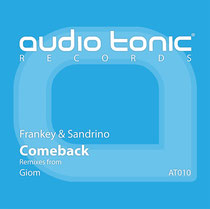 Dubai's Audio Tonic return with the 'Comeback' EP by Frankey & Sandrino, featuring a remix from French born now London based rising producer Giom.

 Following the success of the 'Audio Tonic WMC Sampler' release which saw tracks from Ian Pooley and Vincenzo, Audio Tonic deliver yet another slice of deepness abundant in depth and warm textures.

 
Title track 'Comeback' opens with a classic organ hook and tribal percussive hits before cleverly working in a warm sub bass underneath the organ to further engross the sound. Additional elements add a soulful character to the track, using a vocal snippet throughout alongside a warm stabbing synth pattern to create an intense deep house workout.

 Giom strips back the original yet maintains the key features, implanting his upfront drum pattern and sharp shooting low-end hits. The warm strings from the original piece work as a pressure builder to a breaking point, where warbling bass notes creep in briefly, before revisiting the fresh new loopy groove, with a slice of the vocal running in recurrence throughout. Out 28th May.