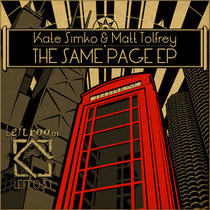 Leftroom continue their releases with the ʻThe Same Page'EP, a three track collaborative project between Leftroom boss Matt Tolfrey and Chicago's Kate Simko.

 A true transatlantic collaboration, ʻThe Same Page' was born out of a instant studio chemistry between Tolfrey and Simko following a Chicago-based session just after the Detroit Movement Festival May 2011. After nine months of stolen sessions amongst the duo's busy touring schedules, ʻSame Page' was finished in London earlier this year and the results have already given rise to chatter about live shows and longer-term projects.


Despite the skill sets these two producers possess, there's a distinct breakdown in roles across the ʻSame Page' EP. Tolfrey's sense of arrangement and adroit use of basslines meets Kate's keyboard and drum work throughout and Chicago's jack meets London's moody elegance head on.

 From the jazz-inflected futurism of lead cut ʻTake It Easy', the discoid discordant funk and fluid progression of ʻLazy B'and subtly dubbed, melancholic creep of ʻNo Shame', the EP is a decent example of contemporary house music. With Tolfrey's debut LP in progress and Kate's solo debut for Leftroom just around the corner, this is a decent taster of what's to come. Out April 16th.