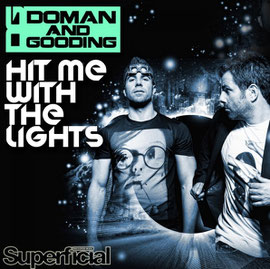 Doman & Gooding - Hit Me With The Lights (Superficial Recordings)
 Arriving with six mixes, including an instrumental, this is the fourth release for James Doman and Pete Gooding's Superficial Recordings label and looks likely to be their biggest one yet. Produced by the duo themselves, the original is a big dubstep/drum & bass-influenced track which really shows off the power of Australian Cassie Davis' vocals. As regular dance music producers, normal service is resumed with the track's other mixes as Russians Swanky Tunes deliver a massive remix which has had support from many high profile artists including David Guetta. 
L.A. producer Ton!c takes his mix down the Dutch route, whilst Josef Bamba & Lanick's mix is really good, although takes a lot of influences from Sebastian Ingrosso's current anthem. Finally, our fav is the remix from The Machine, who strips the track back and creates a great underground, deeper 4/4 version. Very good release, great set of varied mixes.