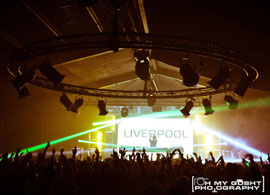 When you reach 30-something and haven't witnessed Cream in all its splendour then you know it's time to make the trip to see legendary trance veteran Paul Oakenfold return to the Courtyard decks after a departure of over 10 years. And not just content with his return, Cream proudly brought along Ferry Corsten, Calvin Harris, Benny Benassi, AN21, Gareth Wyn and local support for the ride! It's Saturday 3rd March and Nation in Liverpool is rocking!
An early start for Ferry's set in the main room gets the place absolutely jumping from the onset!  He's on top form and drops his infamous 'Punk', one of my favourite tunes and it certainly gets a good reaction from the crowd! I'm pretty sure the light show behind him can be seen in space! Calvin Harris' set clashes with Oakenfold so our group split in half and we catch Oakey. It's an emotional set and the place is rammed to the roof with Perfecto clad bods enjoying watching the master return to his den. Great to hear old courtyard classics played but impressed that he brings his 'Fluoro' concept to freshen the set. Great balance of old and new and he winds things up with a Neelix track, who is fast becoming my favourite psy-trance producer of late.
Catching back up with the other half of our 'Team Cream' they can barely contain their excitement at Calvin's set and with barely an inch of dancefloor they had no option but to 'Bounce' with the crowd. I would have liked to have caught him in action – maybe next time! It's been a mammoth night and we made it to the end – just! We catch a little bit of what's left as we try find our way out the caverns of Cream, a few of the girls make breakfast in time to spy Calvin eating his beans on toast! In short, an epic night!
Words: Nicola McDougall (@Nikki_mcdougall)
Images: OH MY GOSHT PHOTOGRAPHY (facebook.com/ohmygosht)