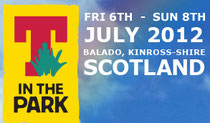 In one of the most anticipated announcements of the year, T in the Park finally announced the acts that will be headlining this year's festival with The Stone Roses. The additional two headliners for the weekend are Snow Patrol and Kasabian, in what promises to be another weekend of musical madness.
In what will be another sell out event, T in the Park continues to be one of the most popular festivals in the world, with 85,000 music lovers descending on Balado, Perthshire on each of the three days. Kasabian said: "It's an honour that we've been invited back to play T in the Park. It's always been one of our favourite UK festivals and after having such a blast in 2010, we can't wait to do it all over again." 
Geoff Ellis (Festival Director)
"It's really important to us that we listen to the fans and make every effort to book the bands they tell us they want to see. With some of the biggest bands and the greatest audience in the world, we hope the weekend of 6 – 8 July will be unforgettable for fans. Opening the campsite gates for the first time is still my favourite moment of the festival weekend and I can't wait to see you all in July!"
With New Order, David Guetta, Calvin Harris, Tinie Tempah, The Happy Mondays, Sven Vath and loads more also confirmed, this is going to be huge! Get over to http://www.tinthepark.com/ for the latest promotional video and ticket information. In the meantime, enjoy one of our all time fav Stone Roses tracks.