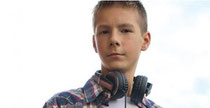 In the year's overview of iTunes The Netherlands, 14-year-old producer Erik Arbores was chosen 'Best New Artist of the Year' within the dance category. In the 'Rewind 2011', iTunes reveals its best sold singles, albums and favourite artists of the past 12 months. Erik's debut single 'Bliss' climbed back to the Top 10 this past weekend and so in the meantime, the young talent has been busy creating new tracks and exploring the DJ side of EDM.
Next week, on Tuesday December 20th, Erik will join Armin van Buuren and Jochen Miller behind the decks in the Stadsgehoorzaal in Leiden, to raise money for 3FM's Serious Request. It's the third performance of the young university student. During the Amsterdam Dance Event in October, he made his debut at Armada Night at the Passenger Terminal, followed by the sold-out Dance4Life event in Amsterdam's Heineken Music Hall, where he showed his DJ skills to 5000 music lovers.

On the day of his 'Take It' EP release, it reached the number one position in the main chart of the Dutch iTunes store. With the first position of his 'Take It' EP, featuring single 'Bliss', he currently beats names like David Guetta, Coldplay and Adele. One week after the release, Erik was already published in the critically acclaimed Billboard Magazine. 'Bliss' entered the Dutch Top 40 at number 20 and is still being played by several foreign radio stations. There's lots of interest coming from abroad to sign the record. Besides being a talented producer, the youngster is also a prodigy in science. Erik skipped four classes and passed his high school exams at the age of 13, five years before the average age in the Dutch school system. He is now studying Applied Physics at the Delft University of Technology and is signed to Armada Music.  

For more info, check: www.armadamusic.com.