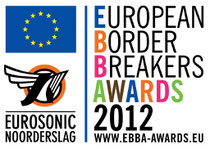 Five of the ten European Border Breakers Awards (EBBA Awards) winners, James Vincent McMorrow (IE), Selah Sue (BE), Boy (DE), Anna Calvi (GB) and Elektro Guzzi (AT), will take the stage at Eurosonic after their performance at the EBBA Awards ceremony. Eurosonic Noorderslag is Europe's most important music conference and showcase festival, supporting the very best new European musical talent. The event takes place from the 11th to the 14th of January in the Dutch City of Groningen, during which the up and coming acts have the opportunity to perform in front of an audience of international professionals and music lovers from all over Europe.
The European Border Breakers Awards 2012 will take place during Eurosonic Noorderslag on 11 January 2012 in a televised ceremony hosted by TV personality and musician Jools Holland. The awards are handed out by the European Commission to ten European artists who have proven to be successful in crossing borders with their first international release in Europe. The ten winners of the European Border Breakers Awards are all nominated in the much-coveted 'Public Choice Award' and there is still time to vote for your favourite! Here's a recap of the winners:
Elektro Guzzi (Austria),
 Selah Sue (Belgium), 
Agnes Obel (Denmark), 
Ben l'Oncle Soul (France),
 Boy (Germany)
, James Vincent McMorrow (Ireland), 
Afrojack (Netherlands)
, Alexandra Stan (Romania)
, Swedish House Mafia (Sweden)
, Anna Calvi (UK)
By voting for your favourite acts, you will automatically be entered into a prize draw to win a trip to the EBBA Awards ceremony, which takes place at Eurosonic Noorderslag in Groningen, the Netherlands on 11 January 2012. Vote online, from now until December 31, to select the winner of the 'Public Choice Award': www.ebba-awards.eu and you could be there to see it all take place on the night.
Former winners of the 'EBBA Awards include Adele, The Baseballs, Carla Bruni, KT Tunstall, Tokio Hotel, The Ting Tings, Lykke Li, The Scripts, Milow, Katie Melua, Mumford and Sons and Caro Emerald. Here's a clip from the 2011 Awards Ceremony so you can see what to expect! EBBA Awards 2011 Video.
The award ceremony – including performances by most of the winning acts – is recorded and broadcast by Dutch National Television (NOS/NTR) and will also receive European coverage through TV channels and radio stations associated with the European Broadcasting Union (EBU) and others.
The awards, now in their ninth year, are funded by the EU Culture Programme and organized by Eurosonic Noorderslag, in partnership with the European Broadcasting Union. The EBBA Awards are supported by Buma Cultuur, SNN, Dutch Ministry of Education, Culture and Science, Province of Groningen, City of Groningen, Nielsen Music, Music Week and European Music Office.
To find out more visit: www.ebba-awards.eu