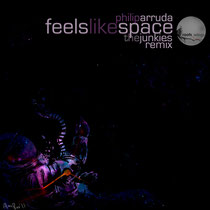 Canadian imprint Roots & Wings Music delivers its 2011 parting shot with a good old two tracker from Philip Arruda entitled ʻFeels Like Space' and backed with a remix from The Junkies.

With the dust barely settling on Matt Star, Candy Csonka and James Teej's ʻSoftly'release, Roots & Wings Music are on a roll in terms of support and it's a label that is continually growing in stature.


Hailing from Toronto, a city which is fast-becoming the new capital of electronic music across the Atlantic, Arruda is a relatively new producer but one that is really coming into his own after two years of hard work behind the desk. Having appeared on Roots & Wings first release the young producer can be considered a firm part of the label's roster and history while pending releases for Rawthentic and Inmotion look set to push his name that bit further.


ʻFeels Like Space' is a balanced piece of woozy groove that employs juddering drums and phased dynamics to create an individual and effective slant on modern house sounds.
 The Junkies, Canadian due Valentino Colavecchia and Vincenzo Nicolazzo, turn in the flipside remix and create a moody, low slung slice of electronic funk. Tight, fluid and atmospheric, it's an interpretation that oozes dancefloor appeal and does so effortlessly with subtle drops, effects and filtering doing all the work.

'Feels Like Space' by Philip Arruda is released on Roots & Wings Music on 31st December, 2011.