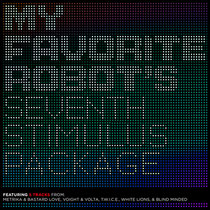 My Favorite Robot Records injects its latest Stimulus package direct into the musical main vein. Over the last three years, whilst economic leaders and bank governors have struggled to get to grips with the unfolding fiscal challenges that have arisen globally, a trio of Canadian robots has been tirelessly working on their own form of quantitative easing. Since early 2009 James Teej, Jared Simms & Voytek Korab, collectively known as My Favorite Robot, have been releasing collected works from some of the hottest producers around on their eponymously titled label.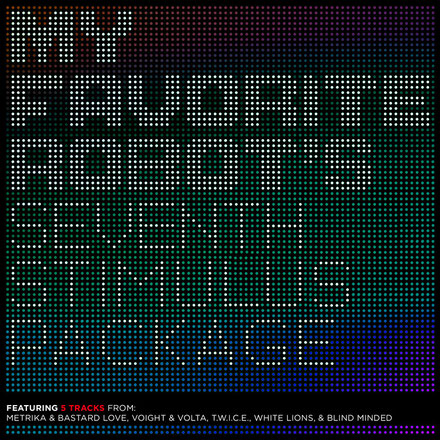 The 'Stimulus Packages' have seen an eclectic musical mix featuring contributions from the likes of Kenny Glasgow, Nitin, Phonogenic & The Model to name just a few. They have provided a regular accompaniment to the labels artist focused singles and albums and have received broad critical acclaim and DJ support. The latest installment, chapter seven, opens with 'Against Nature' by the excellent T.W.I.C.E; old school electro rhythms and synth stabs build over a densely layered backing creating a wonderfully off kilter slice of electronica that is a perfect opener for this latest stunning collection.
Next up we have the pairing of Sebastian Voigt and Eric Volta who deliver a superb bass driven, funk laden underground house cut that fuses rich analogue bass, skipping synth riffs and breathy vocals to supreme effect, quality stuff.


Nestled in the middle of the pack we have the latest offering from White Lions. The Lions provided one of the key cuts on MFR's Fifth Stimulus package in the shape of 'De Palma', a record that was subsequently used by Jamie Jones on his Fabric compilation. For this latest package they weigh in with the excellent 'Hjob', a rolling and loop driven house cut with a deep 80's style B-line and a distinctly cinematic sound.


The penultimate cut comes from Metrika & Bastard Love who deliver the excellent 'I Owe You', a deep and brooding electro tinged vocal cut that is perfectly at home with the My Favorite Robot sound.


And finally we have Giorgio Cadamuro AKA Blind Minded who takes time out from his recording for Moon Harbour and Trapez to deliver the wonderful 'The Achronic', a slice of hauntingly melodic deep electronica with a broken beat feel to it, sublime.


Toronto's finest do it again with a stunning package that is set to bring some audio warmth in the cold months to come…


'My Favorite Robot's Seventh Stimulus Package' is released on 9th January 2012.

---
---