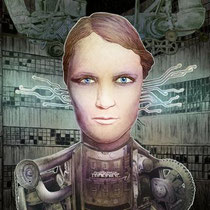 Seattle-based songwriter, multi-instrumentalist, producer and film composer, Anomie Belle, releases her new EP, Machine, on December 5th, featuring collaborations with members of the Sneaker Pimps, Mr Lif, and Big Spider's Back. Many have already heralded Belle's music as a soundtrack for the Occupy movement, and once again her potent music speaks out against the Machine.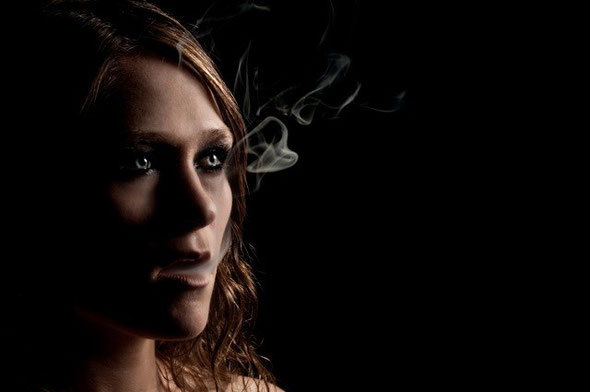 Her new EP kicks off with "Slither," a dark, sinister, sexy track written in collaboration with Ian Pickering of the Sneaker Pimps. "I was in Europe for a festival and decided to stop through London to visit Ian on my way home," Anomie explains. "We shut ourselves in a smoky little room for four days and just wrote music together. Ian and I connected musically right away. I love the darkness in Ian's lyrics… they strike an intriguing balance with his genuine and compassionate demeanor as a person."
The dark themes of greed and suffering in "Slither" are followed by "Machine," a collaboration between Belle and hip-hop emcee, Mr Lif (The Perceptionists, Thievery Corporation). In "Machine," Lif and Anomie dish out harsh criticism of the enormous discrepancies in wealth, avarice, oppression and poverty that characterize modern society.
Lif and Anomie first teamed up in 2009 to perform at Bumbershoot and have continued to perform together since. The two immediately connected around their shared values and musical sensibilities. Lif has long been noted for his socially conscious lyrics, and Belle is known for tackling critiques of greed, oppression, mass media, corporate power, inequality, and alienation in her music.
"I grew up in your prototypical American suburb," Anomie Belle explains. "The manicured lawns, strip mall parking lots, chain stores, and massive expanses of cement and housing developments depressed me. I chose the moniker Anomie Belle to speak to the decadent alienation of the American dream."
"Beautiful Desocialization and is a moniker quite apropos for Anomie Belle," writes Hellbomb. "Her songs are critical of blind adherence to consumerism. They're swanky and sexy, but they also champion individuality and critical thinking."
Machine (feat. Mr Lif) is followed by three remixes of tracks from Anomie Belle's recent LP, The Crush, including an infectious dance remix of "Machine" by Big Spider's Back.
Anomie's love of collaborations is no secret. Her work as a producer has recently led her to collaborate with members of The Posies, Trespassers William, and Ninjatune's Yppah. She has also recently toured with Tricky, Little Dragon, The Album Leaf, Bajofondo, and Kathryn Calder (of the New Pornographers). "I have been fortunate to get to perform and collaborate with so many talented folks," Belle comments. "There is so much to learn, and I am thrilled to have been given so many opportunities to grow as a musician through collaboration."
Soundcloud: http://soundcloud.com/anomie-belle/machine-feat-mr-lif 
---
---