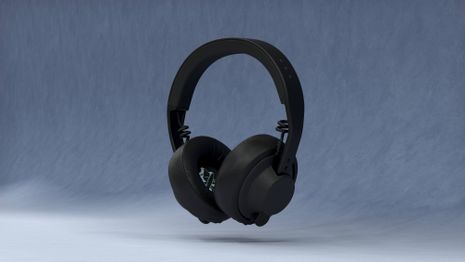 Danish audio design company, AIAIAI has unveiled a collaboration with Ninja Tune: the new TMA-2 Ninja Tune Edition headphones - made from the independent label's recycled vinyl. The headphones will build upon AIAIAI's modular design ethos and a shared desire for the collaboration to focus on experimentation. 
Building on this approach and a vision of doing something meaningful together, the natural progression was to experiment with Ninja Tune's main resource: vinyl. Ninja Tune remarked: "We finally found a way for you to listen to our deeper cuts."
Out now, hey have a customised detailed and rich sound representation based on AIAIAI's Bio-Cellulose S05 drivers, and come with the comfortable choice of both on-ear and over-ear vegan leather cushions. A full charge gives 20 hours of wireless audio via Bluetooth 5.0, making it an option for long and critical listening sessions.
With both companies tackling inherent difficulties when pursuing sustainable goals, the experimentation involved has revealed the changes they can instigate in the core manufacturing for future products.
Since the launch of the first TMA-1 headphone in 2010, AIAIAI has been creating products that are designed to last, focusing on designing modular functionality to extend the longevity of every product and create less waste for the planet. The modularity of the AIAIAI TMA-2 headphone design, first released in 2015, affords the ability to upgrade and expand as technology evolves, creating an extended functional lifetime. Now in 2021, it continues to innovate in audio product design by seeking out like minded partners, and implementing usage of recycled materials for components of the headphones, ranging from sustainable Alcantara for ear pads to recycled plastic for speaker units.
The TMA-2 Ninja Tune Edition headphones are the first AIAIAI product to be assembled in Denmark, rather than China. In keeping with the company's inclusive philosophy, they have created a partnership with a packing and assembly programme at Elleslettegård, an organisation where young people and adults with special needs are "given the best conditions to build a life as dignified and independent as possible."
Ninja Tune, who also incorporate labels like Big Dada and Technicolour and work closely with Brainfeeder, are committed to becoming carbon neutral by the end of 2021 and carbon negative beyond that. 
© justaweemusicblog.com