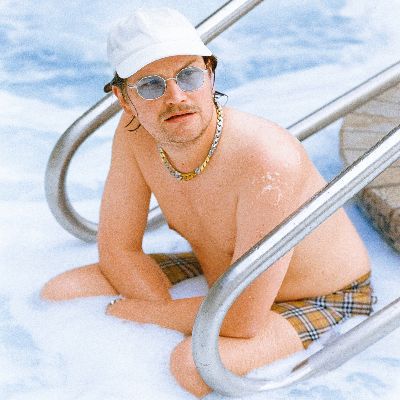 French DJ, musician and producer Myd will release his debut album, 'Born A Loser', on Friday, 30 April via Ed Banger / Because Music. The album comprises 14 tracks, including previous single 'Moving Men' featuring MacDeMarco and new single - also called 'Born A Loser'. The single's video, also out now, features Myd being chased by his own double around his apartment: he is calling himself a loser.  
Myd: "The song is an anthem dedicated to all the people who think they are losers. This feeling should give them the strength they need to go and achieve great things."
Born in Lille, he has been making music for over ten years, firstly as a founding member of the collective Club Cheval, where he helped produce and remix for artists including Kanye West, Dua Lipa, Theophilus London, Brodinski and more.
Here, he has crafted an album completely alone, his coming-of-age record and 'a soundtrack to life's strange delights: a drunken round of jazzercise, a lazy float in the kiddie pool, your weird uncle gyrating under disco lights.'
Myd: "It's really important to see yourself accomplishing the work. 'Born A Loser' is weird in its structure. There are pop songs, but there are also extreme production choices. Before, I was a bit shy with that. I'm finishing this album really confident. This way is my way, and I'm really happy about it."
The album takes in disparate influences and sources of inspiration - from its featured artists to the records it samples. The title track and single sees Myd flip Derrick Harriott's vocals from the 1967 reggae record 'The Loser', creating a loop around the refrain "I was born a loser" and 'Now That We Found Love' samples The O-Jays' 1973 single of the same name. 
Uruguay-born guitarist Juan Wuaters adds a moment on 'Forbidden', his melodies crackling and swirling against the beat. British vocalist Bakar's feature on 'Got It' flows humid and slow over disco and bird calls.
Myd: "For me, the album is ending a chapter more than opening a new one. I see inspiration like a lung. Sometimes you are inhaling, and you need to take inspiration and wisdom from lots of people. Then you have other times when you need to produce a lot. To create this album, I was by myself creating. I think the next chapter will be working with other people and sharing what I did."
© justaweemusicblog.com