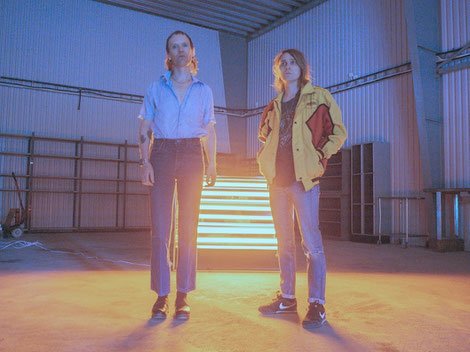 Swedish synth act Kite have just release new track 'Bowie '95', an ode to being lost, and the existential dread that comes from having to engage with the 'real world'. Made up of singer Nicklas Stenemo and keyboard player Christian Berg, the band says "The lyrics addresses both the feeling of guilt of not being more part of making the real world much better, but also the acceptance that music and escapism have an important role to play in people's lives."
Like recent single 'Teenage Bliss' the new song has been produced together with Blanck Mass (Benjamin John Power). 
Kite: "When we started Kite the band F*** .Buttons were a big source of inspiration to us. Since then we have been following Benjamin John Powers brilliant music as Blanck Mass. We are now extremely excited to announce that we are working on the production of two new Kite tracks with him."
The band have brought their visual live show to audiences in Scandinavia, Germany, the US, Canada and China. It sometimes even includes cats shooting laser beams out of their eyes, and when their performing their shows at Stockholm's Royal Opera House – a 16-piece orchestra.
The pair combine an adventurous nature with pop sensibilities, throbbing beats and an early-90s aesthetic. Their approach to songwriting – a methodology of 'cut the fat' results in tight, focussed songs. 
© justaweemusicblog.com