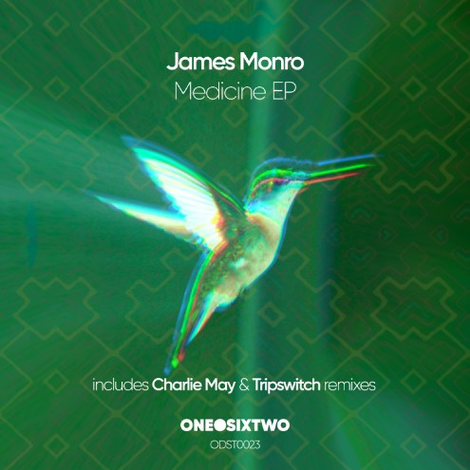 Tripswitch's onedotsixtwo platform sees the return of Brasil-based James Monro to the label with his 'Medicine EP'. This latest package is further boosted with remixes from mousejockey and studio orc, Charlie May, and the main man himself, Tripswitch. James dived into his studio within days of participating in an Ayahuasca ceremony (traditional spiritual medicine) with a Brazilian tribe in the Amazon basin, with a view to trying to capture a hint of the deeply affecting emotional insight and sense of healing he experienced. 
As a music producer he was also intrigued by and tried to capture the subtle sonic expansion that took place during this ritual.
As a result, the 'Medicine EP' is a brief mindful dive into the mysteries of plant and tribal based medicine, expressed via an intersection with technology. 'Medicine 1' rides on an hypnotic groove, laced with an acidic undertow, as it expands towards an emotional insight into a hidden world. 'Medicine 2'expands the rhythmic theme and expands James' exploration of depth and melodic harmony within the sonic process.
Charlie May implements a respectfully bold experimental vision for his remix of 'Medicine 1', diving deep with a low-slung, quirky dub tribal groove. It is then left to Tripswitch to create a uphoric finale to the project with his remix of 'Medicine 2', teasing out and maximising the track's tension with a breakdown (or two) and atmospherics. 
The 'Medicine Ep' is released 3 April, check it out below.
© justaweemusicblog.com