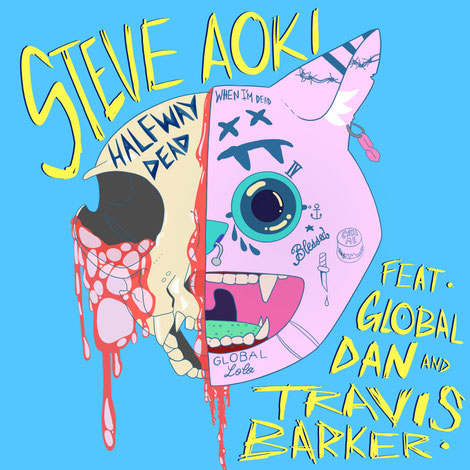 DJ/Producer, Steve Aoki, shares his new collaboration 'Halfway Dead' alongside the confirmed 3 April release date for 'Neon Future IV' album. The song features drummer Travis Barker and singer/rapper Global Dan, who broke through in 2017 via his single 'Off-White' earning Virgil Abloh's cosign, and will be with Aoki on his Neon Future IV: The Color of Noise Tour kicking off this month.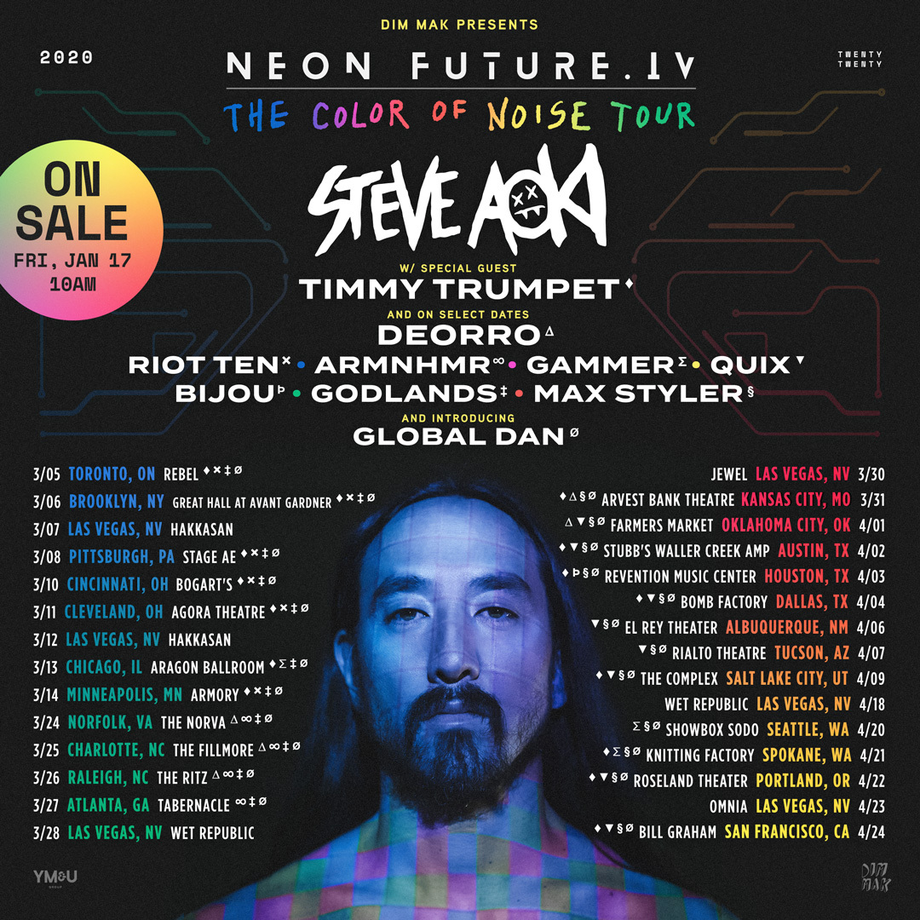 'Halfway Dead' opens with an upbeat bass guitar as Global Dan explores the feelings of heartbreak and frustration, that turns to pure anger. Dan sings "Cause I can see you lying through your teeth/You're one step closer to being my enemy/You're halfway dead to me," while the background vocals repeat "I told you don't waste my time" as Barker enters on the drums. 
The track progresses narrating the familiar cycle of emotions felt during a relationship when you know it's about to end, and can no longer stand the other person. The combination of Aoki's electro-pop beat, with staple Blink punk, and Dan's lyrics, create a 'breakup antidote for listeners to bang their heads to while playing loud.'
Steve Aoki: "It was so organic working with these guys. Collaborating with Travis, who's a rock icon, is always a good time and brings me back to my roots. With Global Dan, not only did we do this song together on my album, but I signed him and produced his whole EP on Dim Mak. He mixes worlds I love like pop-punk and hip-hop in a way that I haven't heard done before. He's one to watch."
Travis: "Anytime Steve wants to do something together I am always game. Making a pop punk song together is so exciting and something we've never got to do before. Steve and I always have a great time making music together." 
Dan: "I've been listening to Blink-182 since I was 14 and I discovered Steve from the movie Project X; he had done a remix on Kid Cudi's 'Pursuit of Happiness' and ever since I heard it I was hooked. As far as how the song came to life, I was working on it with my friend, I sent it to Steve, he did his thing with the co-production, sent it to Travis, and Travis did his thing on the live drums. Working with them was a dream come true and I'm super hype for this tour. I just hope his fan base rocks with me." 
The new album serves as the latest instalment from Aoki's 'Neon Future' series and features previously released singles with Darren Criss, the Backstreet Boys, and Maluma to name a few, along with new tracks featuring artists such as Lay Zhang, Zooey Deschanel, will.i.am, and more. 
Neon Future IV sees Aoki in his latest musical state, "every time I do an album it's like a stamp, a time stamp of my musical evolution and progress and creativity coming out," comments Aoki. "This is the timestamp from the end of 2018 to 2020." 
The tour, a reference to both his upcoming album as well as his memoir, kicked off in Toronto on 5 March and continues through 24 April ending in San Francisco. Joining Aoki and Global Dan on all dates is Timmy Trumpet along with a selection of Dim Mak artists, plus extended friends and family, including Deorro, Riot Ten, Gammer, ARMNHMR, QUIX, Godlands and Max Styler. 
The show will also feature a brand new production design created by Tobias Rylander, known for his work with acts such as The 1975, The XX, and Phoenix. The tour will also feature set design by Superplastic, creator of animated celebrities, in conjunction with their recently announced partnership with Steve. The two brand new, limited edition Superplastic x Steve Aoki Janky Toys: "Neon Future'' and "Playhouse," will both be available for purchase exclusively at superplastic.co and on site during the tour through April 2020.
© justaweemusicblog.com